I have taken to using a slide toward the end of presentations which plays out to Tim Hardin's "Reason to Believe" – https://www.youtube.com/watch?v=iIqBuZoqAXU. I use it to recognise that, overwhelmingly, teachers, school leaders and other colleagues working with young people give me a reason to believe in a better future. I am unembarrassed by either the idealism or optimism. I praise the difference that they make and, equally importantly, the fact that, when they don't, they persist in their efforts. It is wonderful when the idealism and optimism are reinforced by experience.
I have spent a lot of time recently working with teachers in Highland Region. They were consistently curious and enthusiastic even in the metaphorical semi-darkness of a "twilight" session. I loved the contributions that they made to discussions and the questions that they asked. I spent a day working with children in Crown Primary School in Inverness and, despite the many highlights, it was a timely reminder of how demanding teaching is.
That respect was strengthened in two sessions that I was involved in with Suzanne Zeedyk – www.suzannezeedyk.com one in Edinburgh College http://www.edinburghcollege.ac.uk – the other in Inverness College – www.inverness.uhi.ac.uk . We had two large spaces filled to overflowing with students, parents, colleagues from the NHS, social workers, foster carers, nursery nurses, teachers and more. They all wanted to be better informed about children. All were aware of the impact of Adverse Childhood Experiences (ACEs) and desperate to know what more they could do to make sure that these did not blight the lives of children in their care. One session was in the evening. The other was a Saturday morning. They had all paid to come and most were reluctant to leave.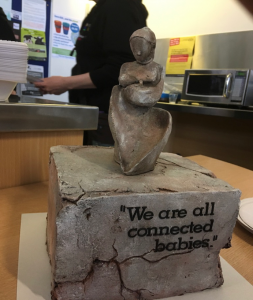 One student made the most amazing cake!
The whole fortnight was more than impressive. It was moving, reassuring and revitalising. It gave me reasons to believe. I only hope that it did that for those who were part of it.